For those who want to know a bit more about what a CCB is as well as the CCB bands that develop. Here is the visual. Obviously these are not all the same storm. But you get the picture.
The air in the cold air conveyor belt (CCB) travels underneath the air associated with the warm conveyor belt. This is the basics of a warm frontal boundary. With a strong intense LP to the NW of the LP the CCB banding sets up. This is because there is enhanced lifting mechanisms in this zone. The enhanced lift in these zones can lead to very heavy banding of precip. That's the simple version. I provided a little more technical version below the images:
" />
" />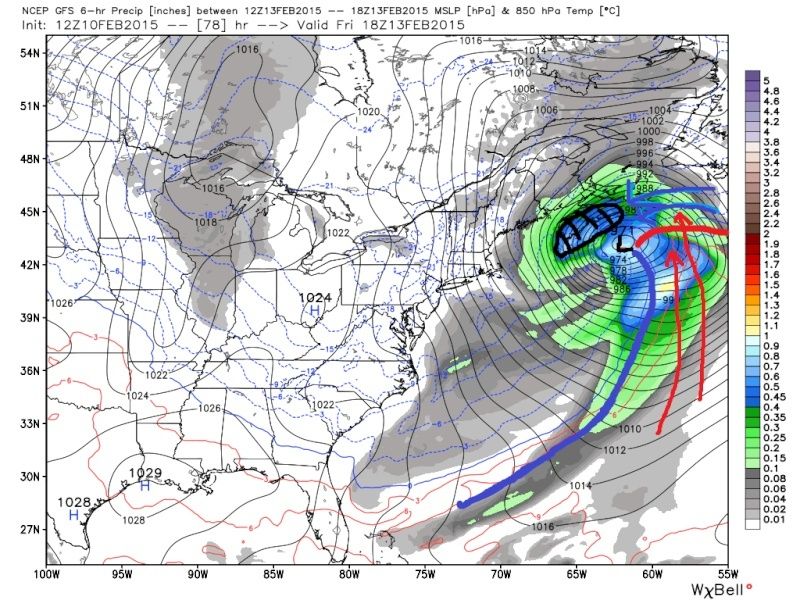 " />
"Air in the cold conveyor belt originates in the lower troposphere of the downstream anticyclone(low pressure) and passes underneath the warm-frontal zone . Thus, the warm front separates the warm and cold conveyor belts. Potential vorticity(spin) is created in the cold conveyor belt beneath the area of latent heat release in the ascending warm conveyor belt. The increasing potential vorticity(spin) within the cold conveyor belt is transported westward toward the lower-tropospheric cyclone center. As demonstrated by Stoelinga (1996) and Rossa et al. (2000), the diabatically( latent heat released)-generated potential vorticity can enhance the cyclonic circulation about the surface cyclone without appreciably affecting the location and overall structure of the cyclone.
Since any precipitation generated within the warm conveyor belt must fall through the cold conveyor belt, the temperature and humidity of the cold conveyor belt can play an important role in controlling the type and amount of precipitation reaching the surface."
_________________
"Go hug a human, not a weather model""Optimism is great, but cautious optimism is more realistic""In weather and in life, theres no winning and losing; there's only winning and learning."
WINTER 2012/2013 SNOW TOTALS 43.65"
WINTER 2013/2014 SNOW TOTALS 64.85"
WINTER 2014/2015 SNOW TOTALS 71.20"
(First snow Dec 8th)
WINTER 2015/2016 SNOW TOTALS  35.00"
(First snow Jan 17th)
WINTER 2016/2017 SNOW TOTALS 42.25"
(First snow Dec 11th)
WINTER 2017/2018 SNOW TOTALS 62.85"
(First snow Dec 9th)
WINTER 2018/2019 SNOW TOTALS 14.25"
(First snow Nov 15th)
Nov 15th 3.00"
Feb 12th 2.75"
Feb 20th 0.75"
Feb 28th 0.25"
March 2nd 3.5"
March 3rd-4th 4.00"
Admin





Posts

: 6243


Reputation

: 247


Join date

: 2013-01-07


Location

: Wading River, LI



Advanced Forecaster - Mod





Posts

: 2742


Reputation

: 145


Join date

: 2015-01-24


Age

: 45


Location

: Somerville, NJ




---
Permissions in this forum:
You
cannot
reply to topics in this forum