Today marks the 57 anniversary. Post from stormpottersvillle on USA-wx.com
Today Marks the 57th anniversary of one of the Biggest snow makers on record in the Delaware Valley. This was a 3 day event that Peaked on the 20th of march in 1958. This day Was not a spring thaw and there were no spring flowers or buds on the trees. Instead Chester count and Berks counties in Pennsylvania saw as much as 50 inches of snow!!! Many who were around at the time remember this storm better then any other blizzard we have had even the blizzard of 1996.
Trucks Transporting goods on the Pennsylvania Turnpike got stranded as the turnpike was shutdown for multiple days.
In this Photo you can see the 18 wheeler's stuck at a Pa turnpike rest area. They also had to Land a Helicopter to help in the situation.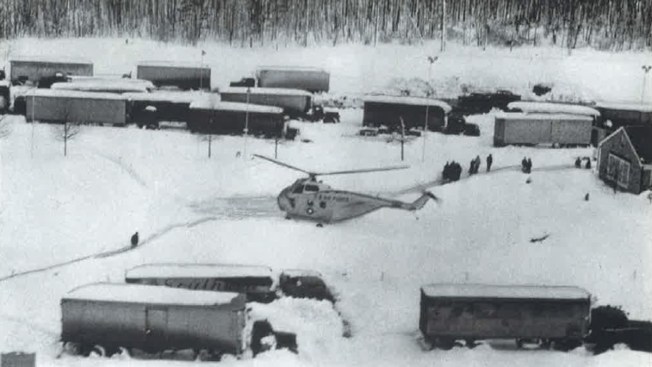 Now in this one you see Vehicles stranded in the Travel lanes of the Turnpike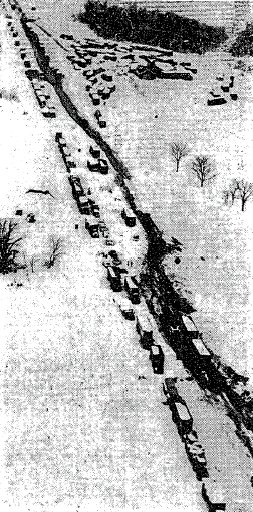 Southeastern PA was not the only one to experience this Massive storm In Baltimore more then 100,000 people lost gas and electricity. Other places from the Carolina's through Maine felt the effects of this system with the hardest hit area being in southeast pa and North Maryland.
Though Philadelphia only got 11.6 inches of snow with this event it is all about the Northwest suburbs.
Morgantown, PA 50 inches
Allentown, 20.3 inches
Wilmington, Delaware 19 inches
Trenton New Jersey, 17.8 inches
Reading PA, 16 inches
Lancaster PA,13 inches
Some other snowfall amounts up and down the east coast
New York city 11.7 inches
Newark, NJ 14.8 inches
Baltimore Maryland, 8.4 inches
Boston Massachusetts, 6.7 Inches
Worcester Massachusetts, 18.8 inches
Bridgeport Connecticut, 9.3 inches
A parafax gas truck delivers fuel in York county PA
If you were a short feller the snow was piled higher then you
Here is a News Reel from the event.
https://www.youtube.com/watch?v=tyz4st_MlbU
Digging deeper into the storm in the days prior to the event the weather forecast was calling for rain in the Mid Atlantic region. It did rain for several hours at first then after that along came the 28 hour period of heavy wet snow that shut down the area. Just Picture a rainstorm turning into a massive blizzard with power out trees down roads closed, Kind of hard to imagine in today's age right? But see back then the biggest source of communication was the telephone the National weather bureau would call office to office with reports on what is happening in there forecasting area. They would also use data from ships airlines and any other way they could gather observation. The only Numerical weather prediction weather simulation models did basic functions and based a forecast on % after all the computers were bigger then your house! All forecast Maps had to be hand drawled at the time. So yes there was always room for a forecast disaster such as this one.
Here is a surface map which shows where the Coastal storm was positioned for the event.
Here is another map from Noaa which was Probably used as a forecast or update back then. On average then only made about 2 of these per day.
Will we ever see a storm like this again in March who knows March is no stranger to snow and there have been many snow storms in march that have hit the Eastern US but Nothing close to what this storm did in southeastern PA.
_________________
Snow Accumulation Archive - Cranford, NJ
2013-2014: 62.1"
2014-2015: 56.0"
2015-2016: 34.0"
2016-2017: 31.5"
2017-2018: 35"
________________________________________________________________________________________________________
CLICK HERE to view NJ Strong Snowstorm Classifications
Godzilla Seeker





Posts

: 18645


Reputation

: 276


Join date

: 2013-01-05


Age

: 27


Location

: Cranford, NJ





Similar topics
---
Permissions in this forum:
You
cannot
reply to topics in this forum