You know there was a time before I followed weather forums, before I knew fellow weather enthusiasts personally, before I had a weather station, before I knew anything about weather models such as the NAM, GFS, or ECMWF, before I knew the science behind the teleconnections such as the NAO, AO, or PNA. Did you know that this was the case for me five years ago, when it was just The Weather Channel's "Local on the 8's" and watching Channel 7's local weather reports that I used to get weather information?  I remember going into 2009-10 snow season that we were coming off three fairly uneventful winters in terms of major snowstorms, especially since they followed four consecutive winters from 2002-06 in which Central Park in NYC recorded at least 40 inches of snow, something that never happened previously, at least going back to when they began keeping records in 1869.  The March 1-2, 2009 was fascinating with 6-10" of snow, but it was nothing compared to the big ones we had earlier that decade, including the 26.9" of snow NYC got from the February 11-12, 2006 storm.  
Growing up, I would always wonder when and if there was a snowstorm on the horizon, one source would be Channel 11 meteorologist Joe Cioffi in his segment "Joe-stradamus" where he would indicate if the "Greenland Block" and "50/50 low" were in place, and believe me that during those four straight snowy winters, we sure had them!  But I lost interest in these terms when in the late 2000s, he left Channel 11 and headed elsewhere.  So I pretty much turned to The Weather Channel and Channel 7 as my weather sources with meteorologists such as Jim Cantore and Lee Goldberg getting my attention.
However, the week of December 14th to 18th, 2009, my mind was all but focused on weather.  Why?  It was finals week in my sophomore year at Manhattan College in Riverdale in the Bronx (I'll wait until you finish chuckling over the school name and its location).  It had been pretty rough for much of the semester and a lot of the courses I took were kind of difficult.  It was stressful enough studying for finals, but after each final, I had that feeling that I didn't do well on it.  I would spend only a couple of minutes a day focusing on the weather forecast, this being in the early evening watching Channel 7 and I remember hearing each day from the 15th-17th about the potential about a low pressure system coming up the coast.  I remained committed to my finals studying, even with the distractions.  My last task of the semester was a take-home assignment which I handed in on Friday December 18th.  Coming out of that, I felt the semester didn't go well and wasn't enthused.  That evening when I watched the channel 7 broadcast (this time with full attention), I saw that the NYC region is set for a heavy snowstorm for the weekend, the strongest in years.  With this, I went from stressed to excited.  That night, when I returned home to Queens, NY for the semester, I was glued to the Weather Channel and the weather.com radar for updates.  They said the storm would hit mid-morning, yet when I woke up, there not a touch of snow on the ground.  The drier air kept the snow south of the city for a while.  And once it began to snow around 1:15 PM, it was very light snow.  By the early evening, however, we finally got into some heavy snow and I remember watching the local news update the snow forecast to 12-18" of snow to my amazement.  The steady snow continued through the night and by daybreak, we had a winter wonderland as seen from this cell phone picture I took (not the best quality, but still worth viewing):
Here is the Northeast Snowfall Impact Scale (NESIS) snowfall map from this event: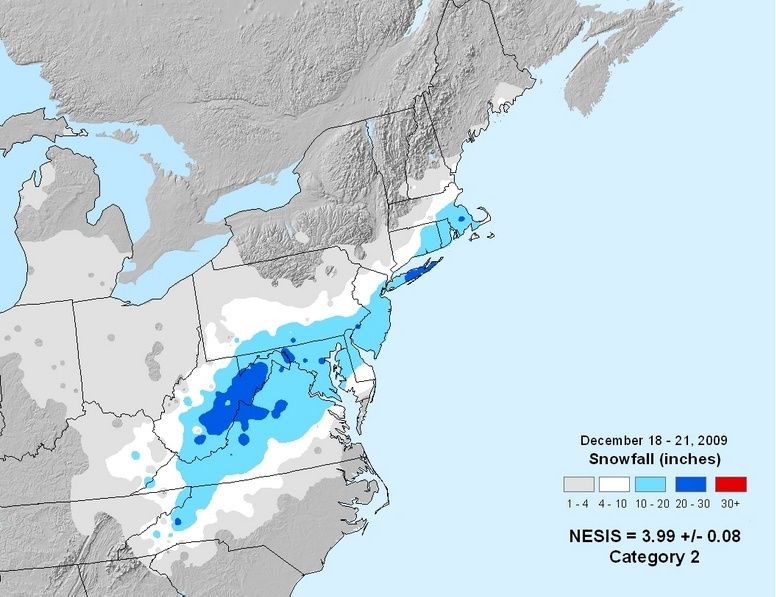 As shown on this map, most areas north and west of NYC struggled to get into the heavy snow while south and east of NYC (check out Eastern Long Island!) had quite a lot of it.  Central Park ended up with 10.9" of snow but from where I was we must have had a least a foot of snow, especially since surrounding neighborhoods were also reporting over a foot of snow.  It's worth noting that Jim Cantore was in NYC to report on the snowstorm.  While he certainly was not in the jackpot zone, he was in a spot that had its biggest snowfall in years.  
And to think, this storm was just the beginning! We had some more snowstorms later that winter that, combined with this storm made for quitter a winter.  And this winter was followed by another snow winter which was 2010-11.  It seems that a lot of people have forgotten about this storm because of those later storms, but this one certainly knocked a punch as it gave NYC a rare White Christmas.
This was not the storm that got me onto weather forums.  Nor was it the storm that got me into viewing models.  But it certainly was a step towards it.  I may bring up the other storms when I get around to it.
One last thing, I should mention that in the coming days, I would get my final grades from my courses that semester, though the last one didn't come in until December 28th!  However, it was worth the wait when I learned that I had done better than expected that semester.
Feel free to give your insight from this storm below.

Math23x7

Wx Statistician Guru





Posts

: 2243


Reputation

: 65


Join date

: 2013-01-08



Nice write up Mike. It looks like dry air really ate up the snow at the onset but eventually it made up for it.
_________________
_______________________________________________________________________________________________________
CLICK HERE to view NJ Strong Snowstorm Classifications
---
Permissions in this forum:
You
cannot
reply to topics in this forum