+26
UnionWX
nutleyblizzard
amugs
dad4twoboys
aiannone
Dtone
billg315
sroc4
keliza52
devsman
Scullybutcher
Sparky Sparticles
docstox12
SoulSingMG
jmanley32
jake732
roccuweather
crippo84
jimv45
SENJsnowman
algae888
petep1000
track17
CPcantmeasuresnow
mikeypizano
Frank_Wx
30 posters
Page 3 of 3 •
1, 2, 3
Cp, Fishkill didn't get that much, even though I had people try to tell me that they had anywhere from 30-35" here and in immediate areas. Standing next to virgin snow yesterday when I returned to my apartment was well shy of where it was when I left my parents', where I sticked 24" at 8pm the previous evening. However, it seemed much deeper than that. I didn't think I was so short that two feet comes halfway up my thighs, but rulers don't tend to lie too much, even though we would all like them to at times hahaha Maybe compaction had already started to occur, even though we were still accumulating snow at that time. Neighbors, well, really people right down the road, told my dad that they measured 27", which certainly substantiates my thinking that the appearance was over two feet, but I cannot confirm those measurements. Here, though, in Fishkill, I'd say they had about 18-22" at my apartment, as it changed over to sleet and even rain here for a bit (confirmation from multiple people). However, I am still upset that parts of PA in the northern tier and central NY had 30-40; that would have been epic. To be complaining about 40" versus 24 or 27" might be a symptom of advanced stages of Snowaholicism, as observations of such reactions are highly infrequent. Maybe our resident expert on this disease can diagnose me?? Either way, it was a wonderful storm minus the fact that thundersnow STILL manages to elude me.
To more important points, and mainly Frank, I would certainly not call this a "disappointing forecast". First off, you, myself, and the rest of our long range crew scoped this from YARD, with (I believe) Tom and Armando leading the way SEVERAL WEEKS in advance. Inside of ten days, that's when you, myself, Scott, Mugs, and Al(gae) started to add our opinions to the discussion as well. As far as I know, WE WERE THE ONLY ONES EVEN ALLUDING TO THE RETURN OF WINTER EVEN WITHIN SEVEN TO TEN DAYS BEFORE THE EVENT!!! That HAS to count for something. Just the ability to highlight a three or four day stretch and say "yup, we really like this period for a potential winter storm" from ten or more days out is remarkable, and I think it deserves to be recognized. Secondly, you went with a call that supported YOUR own reasoning. YOU picked a storm track, YOU picked the QPF (which, btw, you kicked my arse with, seeing as though widespread totals of 30"+ were achieved across the northern tier of PA and central NY, something I didn't think was going to be possible, so yet another hat tip to you). YOU DIDN'T let the models lead you blindly. As you always do, you had methods behind your madness; you weren't just blindly following, like I think many other forecasters were. Having reasons for what you forecast makes learning from them all the easier, because you can identify the pieces that didn't fall into place and keep those lessons stored for another storm, which you did, and is yet ANOTHER success. You think all of these TV mets who were fiercely defending why they got it wrong have done this same analysis? Not even close. Their hands have been washed and they've moved right along without breaking stride, because all they do is follow guidance. You managed to turn this into a learning experience for everybody, and there is NEVER a disappointment in learning. How many have you gotten right in your career (this season) compared to wrong? Yeah, that's what I thought
Keep on keeping on, buddy, because you're an EXCELLENT forecaster; a few "disappointing" forecasts don't change that. We're all human and none of us are perfect. By the way, at least you weren't insisting that this storm wasn't happening and watch it then proceed to snow over a foot for most of the coast like this idiot did earlier in the season......THAT was a disappointing forecast

rb924119

Meteorologist





Posts

: 6289


Join date

: 2013-02-06



And since this is a storm review, I should post what turned out to be the only forecast I could provide for this event because of my internet complications combined with my schedule. Posted mid-day Monday:
Ok, sorry everybody but I DO NOT have time for a video right now. However, here is my overdue First Call: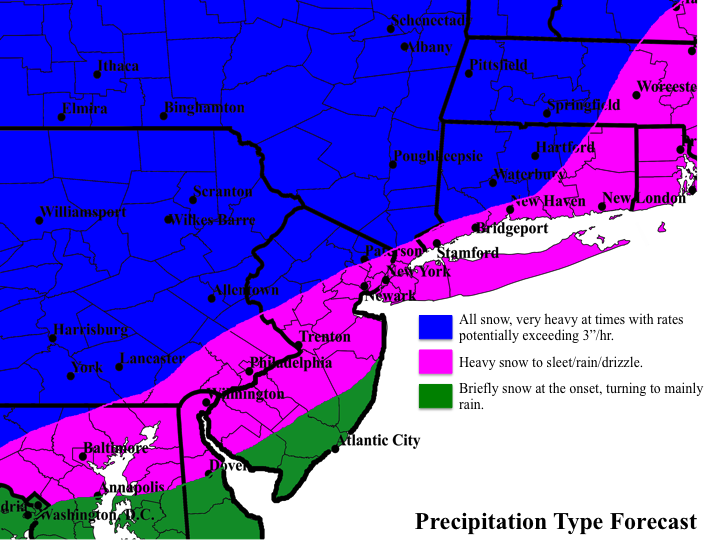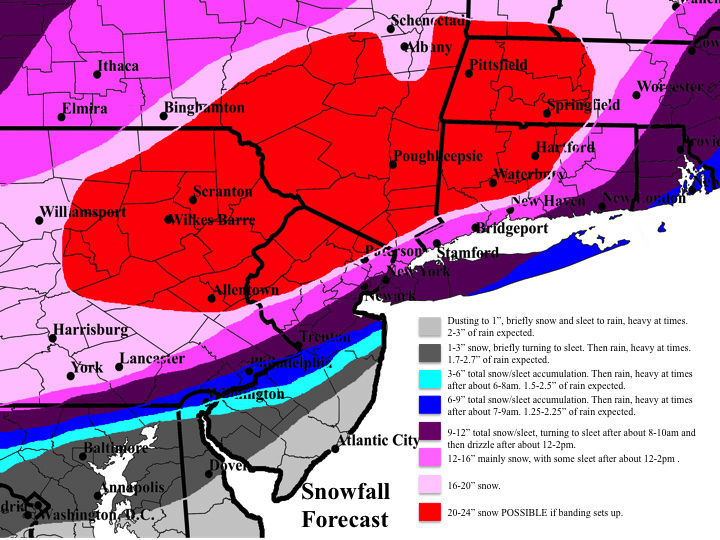 Start: 11pm tonight to 3am tomorrow, for most, a couple hours before and after sunrise across southern and central New England.
End: Tuesday afternoon to evening, depending on where you are (, early-afternoon coastal plain), late-afternoon eastern Pa/NY, evening rest of New England)

See the maps for the initial thoughts above, but I generally followed a blend of the NAM, SREF, RGEM, UKMET, and EURO suites, although with much less QPF. Unfortunately, I do not have time to go into detail as to why I chose these models and backed off on QPF, but the lack of confluence to the northeast of our system will allow this to be in and out in roughly 12 hours. To get more than 2 feet out of it in that time will be very tough in my opinion, even with ratios, when you take into account time lost to saturate the column and the winding down of the snowfall toward the end. That said, this will still be a very impactful system with extremely heavy snowfall rates at times, making travel nearly impossible, and lowering visibilities to near zero even without any help from wind. As you can see, though, I am expecting the surge of warm air to win out at least for a time along and east of the I-95 corridor. I have several reasons for this, but I do not have time to explain now. Minor to moderate coastal flooding is also expected with astronomical high tides overlapping with the wind and 2-4' storm surge, so coastal communities should be prepared for that. Also. beach erosion will be bad yet again. Sorry for the lack of a post, but I have to get ready for work! Enjoy your afternoons, everybody, and I will return this evening for continued discussion and any updates to my first call!!
Had I been able to issue a Final Call, (yeah, hind sight is 20/20 and I know it's easy to say something after it happens, but please take my word for it), I know that I would have verified better, as I would have increased my max values similarly to Frank's, tightened up my coastal gradient, and likely shifted things a little further westward, since I continued to favor the coastal hugger idea and just would have tweaked lines/numbers. However, this was what I issued to the public, so this is what I'm grading on. I busted too. My orange shading of winds should have extended further west to include much of NJ and more of the LHV/southern New England. My p-type forecast was pretty good, with only a minor northwestward shift needed to verify. My snowfall forecast was much too low for the northern tier of PA and central NY, should have expanded further northwestward, and my coastal snowfall gradient should have been tighter. Again, I feel confident that I would have made most of these changes if a final call was issued, but it wasn't, so even my publicly issued forecast, which was largely west-based with the low track, busted. I was also WAY OFF with my expected duration, as this lasted closer to 18-20 hours for many, rather than 12. I'm right there with you, Frank.

rb924119

Meteorologist





Posts

: 6289


Join date

: 2013-02-06



Funny thing is rb, for the area furthest away, you were spot on with the exception of the sleet part. For myself, I am guilty of the sin of wishcasting. I tracked and paid attention right up to the point where I saw the big numbers on the maps and then nothing mattered but the possibility of a huge total. I joked with my mom that my prayer was answered, but that I prayed for the wrong thing because I wanted it to come west without specifying how far. As a rank amateur, the hardest thing I thought for anybody to get right would be the gradients. So much change over so little distance. Out this way, 50 miles was the difference between 14 and 32 inches. You guys all did a hell of a job and you deserve more credit that you're willing to give yourselves.

CPcantmeasuresnow

Wx Statistician Guru





Posts

: 7077


Reputation

: 230


Join date

: 2013-01-07


Age

: 102


Location

: Eastern Orange County, NY



CPcantmeasuresnow wrote:
I never thought in my lifetime I would ever see this kind of snowstorm again what with all the big ones trending S and E these recent years.Stll have maybe 6 or 7 inches snowpack yet as per CP's "amazing shrinking snowpack" study,LOL.
https://search.yahoo.com/search?fr=mcafee&type=C111US105D20130603&p=the+amazing+shrinking+man
Don't know why this makes me think of this,lol!

docstox12

Wx Statistician Guru





Posts

: 8144


Reputation

: 221


Join date

: 2013-01-07


Age

: 73


Location

: Monroe NY



Page 3 of 3 •
1, 2, 3
---
Permissions in this forum:
You
cannot
reply to topics in this forum