+19
DAYBLAZER
docstox12
Vinnydula
phil155
frank 638
weatherwatchermom
brownie
essexcountypete
kalleg
dkodgis
jmanley32
aiannone
sroc4
heehaw453
hyde345
Dunnzoo
amugs
rb924119
Frank_Wx
23 posters
Page 5 of 5 •
1, 2, 3, 4, 5
rb924119 wrote:

Frank_Wx wrote:Nice little event for those up north

This map seems a bit suspect to me, knowing that Binghamton was placed under a special advisory for several hours last night due to 1-2"/hr rates. And they have less than my parents? Idk 'bout that lol btw, Frank, 4" on the nose at my parents', ~2" in Skytop, Stroudsburg, and about 1" at the Delaware Water Gap. Had less than an inch starting near the Route 31/46 intersection, all the way to the Gap. Only reason I know is because after working last night I drove to my parents' lmao
RB Binghamton officially picked up < 4".  The surface was marginal at best even at 1k' elevation.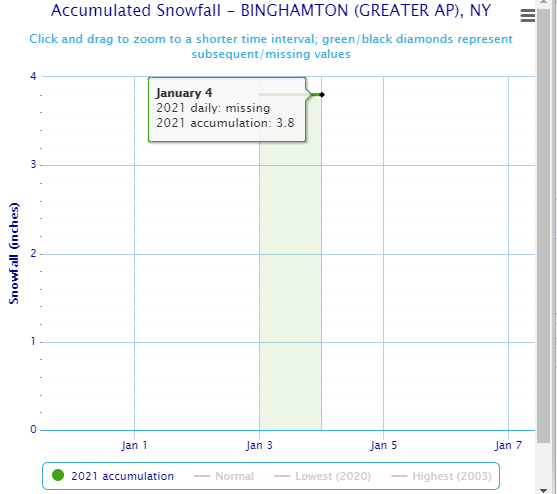 heehaw453

Advanced Forecaster





Posts

: 3281


Join date

: 2014-01-20




amugs

Advanced Forecaster - Mod





Posts

: 14691


Join date

: 2013-01-07



Frank_Wx wrote:

rb924119 wrote:

Frank_Wx wrote:Nice little event for those up north

This map seems a bit suspect to me, knowing that Binghamton was placed under a special advisory for several hours last night due to 1-2"/hr rates. And they have less than my parents? Idk 'bout that lol btw, Frank, 4" on the nose at my parents', ~2" in Skytop, Stroudsburg, and about 1" at the Delaware Water Gap. Had less than an inch starting near the Route 31/46 intersection, all the way to the Gap. Only reason I know is because after working last night I drove to my parents' lmao

Haha, just could not resist, huh?
Well considering I now have confirmed reports from friends of 6-8" in northern Wayne County, Pa; no lol

rb924119

Meteorologist





Posts

: 6289


Reputation

: 193


Join date

: 2013-02-06


Age

: 31


Location

: Parents: Greentown, Pa/Me: L.B.I., NJ



@Frank_wx
Believe me now? Haha

rb924119

Meteorologist





Posts

: 6289


Reputation

: 193


Join date

: 2013-02-06


Age

: 31


Location

: Parents: Greentown, Pa/Me: L.B.I., NJ



Page 5 of 5 •
1, 2, 3, 4, 5
---
Permissions in this forum:
You
cannot
reply to topics in this forum